Agent Frequently Asked Questions
General
What is RentGuard?
---
RentGuard is designed for property leasing agency who want to automate, modernize, and grow their business. Whether you manage land house, condominium, or commercial properties or maybe you manage a mixed portfolio with our all-in-one cloud-based solution has features built specifically for you and, so you can streamline your workday and focus on your bottom line.
---
Is my data secure in the RentGuard System?
---
​RentGuard protects your information with multiple layers of security, including data encryption. Our cloud infrastructure protects your data 24/7. Encryption brings a higher level of security and privacy to our services. When you performing transaction like create a records or send an email the data you create moves between your device. We protect data with multiple layers of security, including leading encryption technology like HTTPS and Transport Layer Security. Beside that, your data is secured & protected under Personal Data Protection Act which governed by Malaysian government in 2010 to protect individual's personal data in commercial transactions.
---
​Do you provide Mobile Application or Apps?
---
Our system is mobile friendly and we are in the middle of developing APPs system.
It is recommended to use a desktop computer and handheld devices.
Click here find out what browser you are using. Desktop computer user:
Android 4.0 or later
Windows Phone 8.0 or later
iOS 7.0 or later
Chromebook 59 or later
Handheld devices user:
---
How long does it take to complete a booking?
---
With just 2 calls the agent can close the deal. 1 call to landlord or vendor and another 1 to tenant or buyer.
---
How do I contact RentGuard?
---
​You can leave a feedback, or contact us if you have questions at enquiry@rentguard.com.my and if you need support assistance you may contact us at enquiry@rentguard.com.my
---
Is the electronic signature in RentGuard system valid and acceptable by Malaysian Law?
---
All the electronic signature used in our system and documents are protected by the Electronic Commerce Act 2006 [Act 658]: Signature (1) Where any law requires a signature of a person on a document, the requirement of the law is fulfilled, if the document is in the form of an electronic message, by an electronic signature which- (a)is attached to or is logically associated with the electronic message; (b)adequately identifies the person and adequately indicates the person's approval of the information to which the signature relates; and (c)is as reliable as is appropriate given the purpose for which, and the circumstances in which, the signature is required.
(2) For the purposes of paragraph (1)(c), an electronic signature is as reliable as is appropriate if- (a)the means of creating the electronic signature is linked to and under the control of that person only; (b)any alteration made to the electronic signature after the time of signing is detectable; and (c)any alteration made to that document after the time of signing is detectable.
(3) The Digital Signature Act 1997 [Act 562] shall continue to apply to any digital signature used as an electronic signature in any commercial transaction. For more information, please refer to the following link. https://www.lawyerment.com/library/legislation/acts/2006/658/part/III/page-1.htm http://dnh.com.my/e-signing-what-you-need-to-know/
---
---
Payment
How can the Client make the payment?
---
​There are 2 options to make the payment, either offline payment (cash/cheque) or online payment (credit card/bank transfer)
---
If Client prefers to use the Offline payment method, Do I need the payment slip?
---
Yes, you need to upload payment slip into RentGuard system for payment verification purposes.
---
How do I know if the Client is using the online payment method?
---
An Email & SMS will send to you after tenant made an online payment and the booking will be automatically completed by system
---
Would there be any service charge for online payment?
---
​Yes, there will be 3% charges on total payment would imposed for online payment.
---
Who will bear the online service charge?
---
​Agent and client can discuss which party is willing to bear for the service charge.
---
---
Booking
Is there an expiry date for each booking created?
---
Nope, the expired date for each booking transaction is decide by Agent.
---
Can I use a mobile device to make a booking?
---
Yes, RentGuard system is web-based and mobile friendly.
---
Can Agent Cancel booking?
---
The agent can cancel the booking if tenant or landlord wants to change or cancel the bookings.

Step 1: Click on My Bookings, eBooking.

Step 2: Click View on which booking will be canceled.

​Step 3: Click More and Cancel Booking.

Step 4: Choose Landlord or tenant (who ask to cancel the booking).
Step 5: Fill up the remarks (reason of cancelation).
---
What if my Clients don't have an E-mail account?
---
​You may register an email account on behalf of your client then generate & print out eBooking form to get client signatory
---
One of the parties have signed the e-booking form but the other party don't want to use the e-signature. What should I do?
---
You need to convert the e-booking into offline booking. You can copy the offer letter number and fill it into the offline booking number box.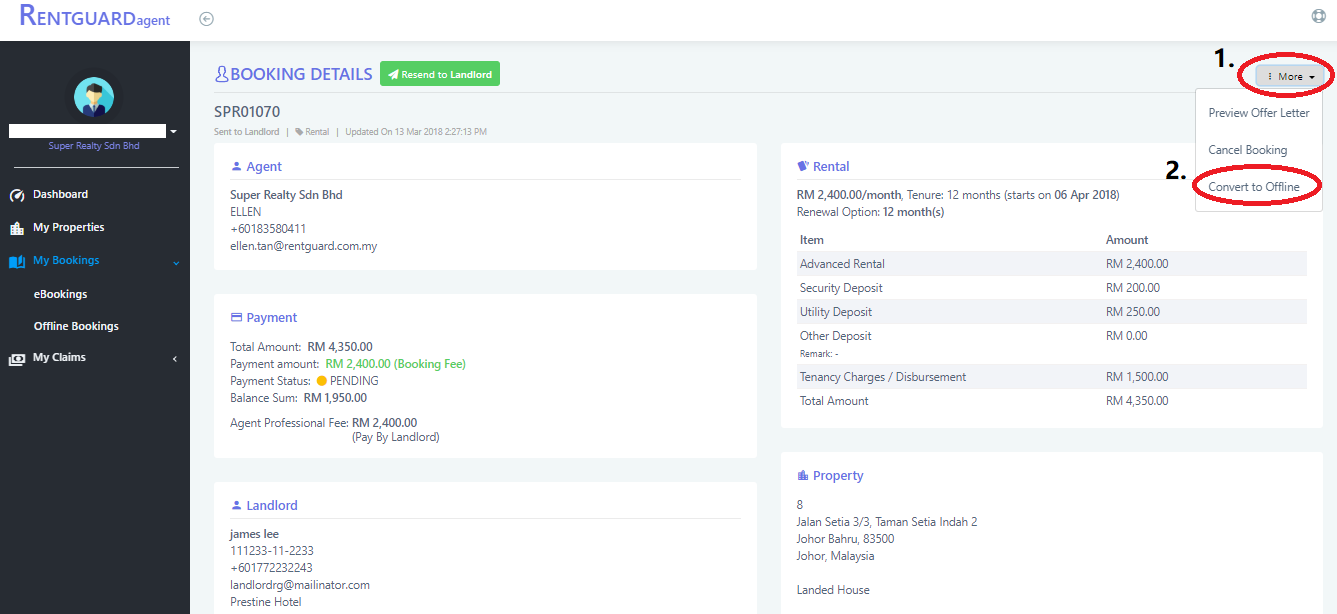 You need to bring the offer letter (signed by one party) to meet up and let the other party sign the offer letter. Then, fill in all the details in the offline booking and upload the signed offer letter to admin for verify.
---
---
Getting Started
How to register RentGuard system?
---
To use our service, the Agency must first buy our services by contacting the RentGuard team. Once purchased, the Agency can register their verified agents via our system Email: enquiry@rentguard.com.my
---
How to add Property?
---
Please click here for more details ⇒ How To Add Property
---
How can I delete property from list?
---
Step 1: Log-in to your account.
Step 2: click on properties.

Step 3: Choose which one you want to delete.
​Step 4: Click Delete to the right of the list.​
---
How to file my commission claim?
---
​Step 1: Log-in to your account
Step 2: click on claims

Step 3: Submit necessary documents and fill in particular payment information.
Step 4: wait for agency admin verify
​Step 5: you can collect your claims.
---
Why is my smartphone or tablet browser keep crashing when I am browsing RentGuard system?
---
Our RentGuard system work more stable while using in Google Chrome. If you are using other browsers, please change it to Google Chrome. If this issue still happen while using Google Chrome, this will be cause by the version of your Google Chrome. Please update your Google Chrome to the latest version.
---
Why cant I log-in even when I have an account??
---
Please make sure you are in the right log-in page. Our webpage is divided into User Log-in and Admin Log-in. Please make sure you are in the correct page when logging-in.
---
Why is the RentGuard webpage stuck in the Menu when I was browsing it in smartphone or tablet?
---
Actually, the webpage did not stuck in the menu. You need to minimize the Menu by clicking the "X" icon, or expand the Menu by clicking the "three line" icon. For better viewing, please rotate your device to horizontal.
---
Where can I view my Letter of Offer?
---
Step 1: Click My Bookings.
Step 2: Click view on the booking you are looking for.
Step 3: Click More, Preview Offer Letter.
Step 4: The Letter Of Offer will be shown in a new tab.
---
---
About Account
Do I need an account before I create the booking?
---
Yes, In order to process or create a new booking, you will need a RentGuard account. Kindly contact your agency administrator, they will create & provide you an account.
---
How do I change the password?
---
Step 1: Click Forget Password.
Step 2: Enter your e-mail.
Step 3: Check your e-mail.
​Step 4: Enter the new password and confirm the password.
---
Can I change my E-mail or phone number?
---
Yes, you can simply ask your agency admin to change for you.
---
---